'Life isn't About a Destination but the Journey that gets us There'
'When You Believe You Can… You Can' – Maxwell Maltz
'You Don't Always need a Plan. Sometimes You Just Have to Breathe, Trust, Let Go and See What Happens'
'Strength Grows in the Moments When You Think You Can't Go On But You Keep Going Anyway'
'Love The Trees Until Their Leaves Fall Off, Then Encourage Them to Try Again Next Year'
Welcome,
As you look at our website, perhaps for the first time, I am very conscious that you may be filled with fear and apprehension. Before you go any further I would love you to know that our Centre is a place of peace and hope. Hundreds of people have come through our door at this stage. Some have come because they have been diagnosed with cancer; others because a family member has been diagnosed, and others because they have been bereaved through cancer. Each one has come with the very same feelings of fear, panic, sadness and helplessness. Now for the good news! From the very first visit each one has gone away feeling a new sense of hope and peace which they never expected. That is exactly what we offer you. Our aim is to ensure that you get the best holistic care possible. Don't let fear keep you on the other side of our door. Be brave and take that small step. A big welcome awaits and from there on your life will be transformed. We look forward to meeting you.
May you receive all the blessings you need for your journey to-day.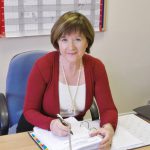 Maureen Durcan, General Manager
What People Say
Testimonial text 2 to go here
testimonial text to go here.
This Website is very generously sponsored by OSD Web Design – 31 Stephen St, Sligo.