Donations "In Lieu"
If you would like to GIVE A GIFT THAT MAKES A DIFFERENCE then you can make a donation to the Centre "in lieu" of
Wedding Favours
Anniversary Gifts
Flowers for Special Occasions
or even a Birthday Gift
We can create a card to acknowledge your donation and make it suit any occasion.
Here is a sample of a card made recently in lieu of wedding favours. We made a card for each table at the reception and used ribbon to match the theme of the wedding.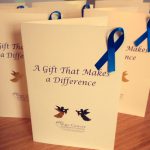 Please contact the Centre for further information on 071-9170399.